DealDash Summer Road Tripping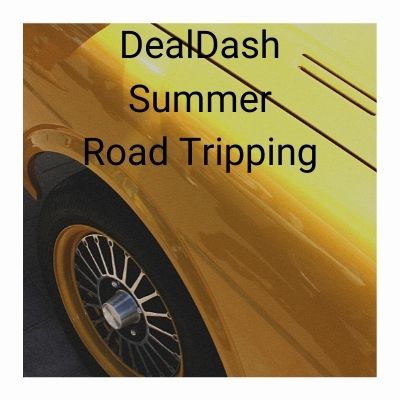 A car trip can be a great way to spend quality time with your family, but sometimes it's hard keeping everyone entertained. Here are some tips for making the most of those hours on our road trips, from DealDash.
A long road trip can be a challenge for anyone, but school-aged kids are especially affected. As the parent, you need to keep their minds active with games in the car! If you have two adults in the car, this isn't a problem. However, if you are the only adult in the car it can be more challenging. Here are some suggestions for summer road tripping.
Summer Road Tripping With Electronics
To begin with, some parents are not too fond of letting their kids have a lot of screen time. However, during special times, such as a road trip, many parents relax the rules a bit. I try to limit the amount of screen time my kids get at home but during summer road tripping, they can use their devices as much as they like. Personally, I would suggest
that each child over 3 years old should have his or her own game device that caters to their interests. For example, my 9-year-old daughter loves to play games on the Nintendo Switch, but my 5-year-old son isn't interested. In my experience, younger kids prefer to watch short videos instead. You know your kids better than anyone else, so you need to make the judgment call as to what they would like the best.
Everyone Loves Music
Next, a great way to bond with your kids is through music. There are many ways that parents can connect with their children by sharing the same interests and hobbies. One of these shared hobbies could be downloading songs on an MP3 player for you and your child to enjoy during summer road tripping. This would even allow them to play DJ backseat driver during car rides! This will be fun for them and keep them occupied during your journey. If you and your child/children don't agree on the same music tastes, that's okay, too. You can put songs on the mp3 player that you like as well as the ones they like. You never know, during the course of the car trip you both might find you actually like some of the music you previously didn't enjoy.
DealDash Has Electronics
Finally, no matter how you plan on entertaining your kids on the road, DealDash can help. If you need video game consoles, mp3 players, speakers, or headphones, DealDash has you covered. You will find all of the popular game consoles as well as games and accessories. You will also find music players and different types of headphones, as well. Check out the Electronics and Computer category for more options.
Thanks for Reading
These are just a couple of ways you can keep your family busy and happy during summer road tripping. By taking the time to use these tips you will have a much more enjoyable trip Thanks so much for reading this article!
Do you need headphones or other electronics? Be sure to check DealDash for game consoles and wireless Bluetooth earphones. You will find the electronics that you need. Visit now to see how much you can save. Have a great time and happy bidding everyone!
This sponsored DealDash blog article was written by Dawn E, a mother of 3 who loves DealDash. Dawn was compensated for writing this article. Check out Dawn and her cats on Instagram! This blog is written by real DealDash customers. The opinions and advice shared here represent our customers' views and not those of the company.