DealDash's End of July Cleaning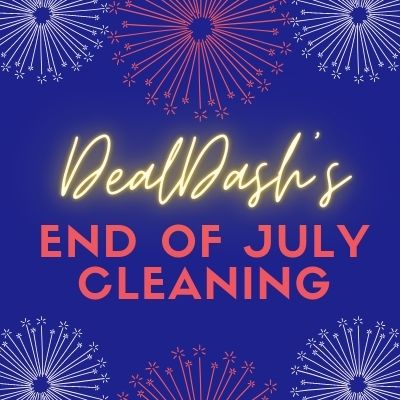 The end of July is here – have you finished cleaning up your house from any visitors this summer? DealDash is here to help.
We have just one more week of July remaining. That means it's time to get your home clean and organized before the kids are back doing schoolwork either at home or in the classroom! Either way, the time for a clean and organized home for the remainder of the summer. Here are a few ideas that can help you stay on top of things for this last hurrah of July cleaning, from DealDash.
July Cleaning – With a Clean Slate
First off, since cleaning is much easier when there aren't already too many messes around – take some time now to look over every room in your house with an eye out for clutter. It will save you so much stress later if those piles don't build up underfoot while trying to scrub down surfaces. Pay extra special attention to areas of the home that have been
used the most over the summer, such as the downstairs bathrooms where people have been getting sand and dirt all over when coming inside from the beach. Your kitchen has probably gotten some extra use as well from the messy foods that people love to eat in the summer such as watermelon.
Don't Delay Your July Cleaning
Secondly, try not to procrastinate any longer than necessary by tackling all those tasks which require physical strength like vacuuming and power washing your deck or garage floor. Start with one project at a time; don't try doing all of your big tasks in one day, it'll only make things more difficult. So try getting one big task per day out of the way, and then you can fill the rest of your time in July cleaning smaller items.
If you have some trouble with being a bit of a procrastinator, don't worry, it happens to the best of us. However, it can be a problem when you need to get your house clean in a hurry. Cleaning is not as hard as you might think. For many people, the hardest part of doing chores is getting started. But it doesn't have to be that way. Hopefully, just knowing that you are prone to procrastinate can help you get started with your cleaning tasks. Simply being aware and trying to break the cycle of procrastination can help. However, here are a few quick tips:
Get up early and be ready to clean
Have all of your cleaning materials ready to go
Do a little bit and then take a break
Make it fun by listening to your favorite song
If you still need a little help, the folks over at Merry Maids have put together a great article about how to get started cleaning if you are feeling overwhelmed.
DealDash Helps You Keep it Clean
Finally, once you have done all of your July cleaning, it's time to do the fun part – decorating! It's so much easier to keep your home clean when it's already clean and decorated beautifully. DealDash can help with home decor. Have you checked out the new items lately? There are some really beautiful new items such as metal sculpture art, classy sofas, and porcelain sculptures. These are just the items to help you decorate your home and have it look not only clean but decorated like a pro.
Thanks for Reading
Thanks for reading, and keep these things in mind when you are looking to make your home sparkling clean in July. Clear your home of clutter and bring some new life into the space with deals from DealDash! How about an awesome piece of sculpture that will instantly add color to any room in the house? No matter what kind of item you're looking for this weekend, it's yours when you find yourself checking out the new items.
Do you need items to spice up your home decor? DealDash has you covered in all aspects of decorations. You will find everything you need to make your home a beautiful and inviting place. Have fun, and happy bidding everyone!
This sponsored DealDash blog article was written by Dawn E, a mother of 3 who loves DealDash. Dawn was compensated for writing this article. Check out Dawn and her cats on Instagram! This blog is written by real DealDash customers. The opinions and advice shared here represent our customers' views and not those of the company.