DealDash Gift Guide: Friends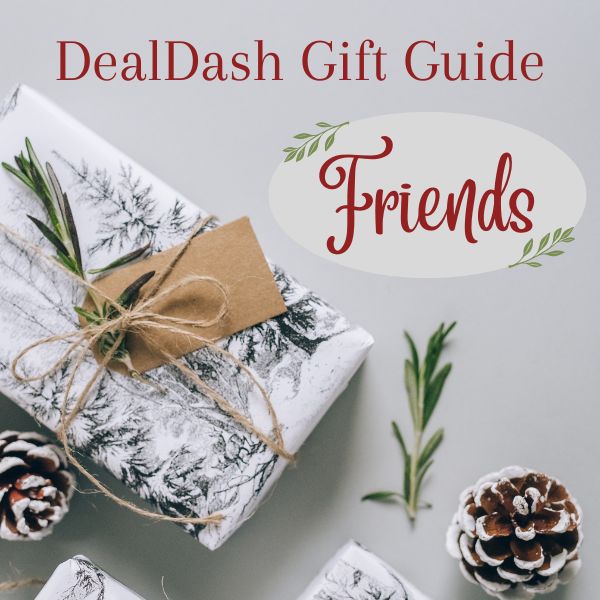 Happy December! It's finally time to get serious about holiday shopping. Keep an eye on DealDash Reviewed this holiday season for gift ideas for everyone on your list.
No matter who you are shopping for this season, you have come to the right place. DealDash Reviewed has you covered with a gift guide on shopping for friends this Christmas. Read on for suggestions on what to get your friends this holiday season.
Thoughtful Gifts for Your Friends
It's the age-old question: what do you get your friends for Christmas? You want to get them something they'll actually use, but you also don't want to spend hours scouring store shelves for the perfect present. Fortunately, there are a few foolproof ways to ensure you hit the nail on the head every time.
First, take a look at their social media profiles. What are they constantly posting about? If they're always talking about their dog, maybe getting them a pet-related gift would be a good idea. Second, think about their hobbies and interests. If they're into cooking, a nice cutting board or cookbook would be appreciated. And finally, don't forget about gift cards! They may not be the most personal present, but everyone can always use a little extra spending money. By following these simple tips, you can take the guesswork out of gift-giving and make sure that your friends always end up with something they love.
DealDash Gift Ideas for Friends by Interest
Next, let's take a moment to think about your friend's hobbies. Almost everyone has a hobby and will love to receive a present that relates to it. Let's take a look at a few popular hobbies and interests, and brainstorm a few ideas for the perfect gift.
For the foodie, we recommend an air fryer. This versatile kitchen appliance can save tons of time and make food taste delicious without adding extra oil or grease. It's perfect for anyone who loves to cook, or is always looking for new recipes to try. Also, be sure to include some of your favorite air fryer recipes with it! Check out this article from the Food Network for some new, yummy recipes.
For the fashionista, we recommend checking out our jewelry accessories. Also, check out the high-end clothing up for bid – my newest favorite on DealDash is the cropped leather jacket, it's gorgeous!
For the tech-savvy friend, we recommend our deals on tablets and laptops. Whether they're looking for a new way to stay connected on the go or a powerful tool for work or school, we have a great selection of options to choose from.
These are just a few of the many great gift ideas you'll find on DealDash. So start browsing today and find the perfect present for your bestie!
Thanks for Reading this gift guide for shopping for friends
It's the thought that counts, right? Of course, it is! But sometimes, it can be tough to come up with the perfect gift for a friend – one that is thoughtful but not too personal, unique but not too out there, and (most importantly) affordable. I hope that you found this gift guide helpful. Whatever you choose, make sure it's something that you know they will appreciate and use. With a bit of thoughtfulness and effort, you're sure to find the perfect gift for your friend – no matter what the occasion may be. Thanks for reading, and happy bidding everyone!
This sponsored DealDash blog article was written by Dawn E, a mother of 3 who loves DealDash. Dawn was compensated for writing this article. Check out Dawn and her cats on Instagram! This blog is written by real DealDash customers. The opinions and advice shared here represent our customers' views and not those of the company.