DealDash Still Exercises in Winter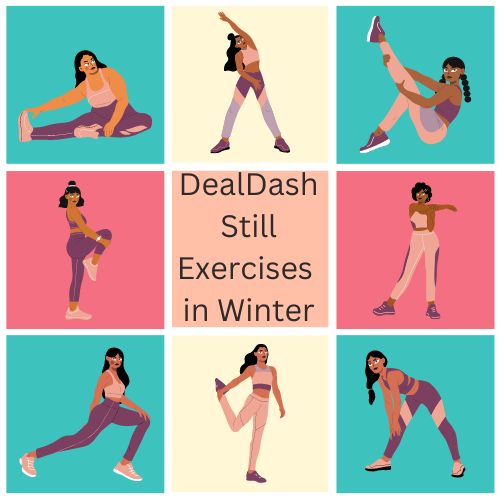 The weather might be getting cooler by the day, but we still need to exercise. There are plenty of options, let's explore!

Great Ways to Do Exercises During Winter
Winter can be a difficult time to stay active. The cold weather and shorter days make it tempting to curl up on the couch and binge-watch your favorite show. However, there are actually many ways to do exercises during the winter months. One option is to take advantage of the winter wonderland by going for a hike or a walk in the snow. Not only will you get some fresh air, but you'll also burn calories as you trudge through the snow. If you don't mind getting a little wet, you could also go sledding or build a snowman. Even something as simple as going for a walk around your neighborhood can be a great way to get some exercise during the winter. So next time you're feeling lazy, remember that there are still plenty of ways to get moving and stay fit during the colder months.
Try Indoor Exercises at Home
If going outside in the cold isn't for you – no problem! There are plenty of exercises that you can enjoy right at home. You can try yoga – you can find free yoga instructional videos on the computer. If yoga isn't strenuous enough for you, then try lifting some weights. You don't need a whole weight bench to start; get a few different weights of dumbbells and get moving.
If you are having trouble finding free yoga videos, try the site Do Yoga With Me. You will find many free yoga videos to get you started.
There are plenty of Items for Exercises on DealDash
Dealing with stress can be difficult, but there are plenty of ways to get rid of it. Some people find that listening to music or reading a book helps, while others prefer to go for a run or hit the gym. However, sometimes it can be hard to find the time or motivation to exercise. That's where DealDash comes in. With a wide variety of exercise-related items available, DealDash makes it easy to get moving and stay healthy. Whether you're looking for a new pair of running shoes, a yoga mat, or even a stationary bike, you're sure to find what you need on DealDash. And because all of the auctions start at just $0.01, you can get a great deal on whatever you need to get in shape. So what are you waiting for? Start browsing DealDash today and get moving!
Thanks for Reading
Even though it's cold outside, there's no reason to let your fitness routine suffer. DealDash has everything you need to help you stay in shape this winter – and save money while you're at it! From yoga mats to dumbbells, there's something for everyone on DealDash. So what are you waiting for? Get out there and start shopping! And be sure to let us know in the comments what is your favorite type of exercise to do when it's cold outside.
This sponsored DealDash blog article was written by Dawn E, a mother of 3 who loves DealDash. Dawn was compensated for writing this article. Check out Dawn and her cats on Instagram! This blog is written by real DealDash customers. The opinions and advice shared here represent our customers' views and not those of the company.