DealDash's Best Summertime Snacks for Kids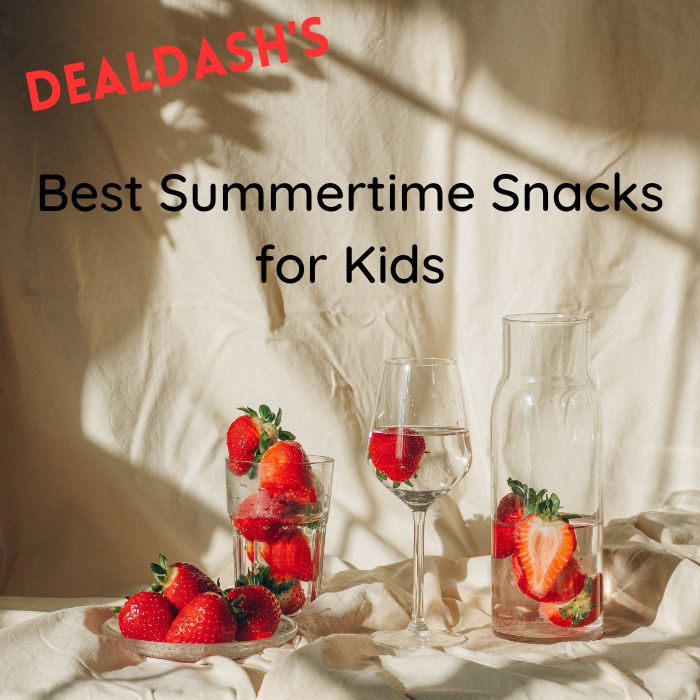 Summer is on its way, and your kids are bound to want snacks. Let's take a peek at some of the best summertime snacks that your kids will love!
Summer is a time for fun, relaxation, and spending time with family and friends. But it's also a time when kids are more active and will want to eat more snacks. That's why it's important to have healthy and nutritious snacks on hand. In this blog post, we will share some of the best summertime snacks for kids. These snacks are healthy, delicious, and will help keep your kids energized all summer long. So, read on for some suggestions and ideas for some of the yummiest snacks this summer, from DealDash.
Summertime Snacks: Fruits and More Fruits
Just to start with, fruits and vegetables are always a good choice for snacks. They are packed with vitamins, minerals, and fiber, and they are low in calories. Some great summertime fruits include:
Watermelon
Cantaloupe
Honeydew
Strawberries
Blueberries
Raspberries
Peaches
Plums
Cherries
Summertime Snacks: Yogurt and cheese
Yogurt and cheese are other great options for summertime snacks. They are both good sources of protein, which will help keep your kids feeling full and satisfied. Some great summertime yogurt and cheese snacks include:
Yogurt parfaits: Layer yogurt, granola, and fruit in a glass or bowl for a quick and easy snack.
Cheese sticks: Cheese sticks are a portable and easy-to-eat snack.
Grilled cheese sandwiches: Grilled cheese sandwiches are a classic summertime snack.
Quesadillas: Quesadillas are a great way to use up leftover vegetables.
Summertime Snacks: Trail mix
Trail mix is a healthy and convenient snack that is perfect for kids. Additionally, it is a good source of protein, fiber, and healthy fats. Some great summertime trail mix combinations include:
Peanuts, raisins, and chocolate chips
Almonds, dried cranberries, and sunflower seeds
Pecans, dried cherries, and pumpkin seeds
DealDash Has Kitchen Supplies
So, with all of these snacks being prepared, you will need some supplies for the kitchen. Also, no matter how well-stocked your kitchen is, you are bound to find new items on DealDash. One of the most unique kitchen items that I have ever seen is on DealDash – it's the Palmero Una Stacked Salt and Pepper Set. It resembles a mix between a fancy kitchen item and also a child's stacking toy. Looking at it is a pure journey of nostalgia meeting elegance. Additionally, you will find items such as kitchen scales, cutting boards, and many other interesting cooking items.
Thanks for Reading
These are just a few of the many great summertime snacks that you can give your kids. So, by choosing healthy and nutritious snacks, you can help your kids stay energized and healthy all summer long. Visit DealDash to see what new kitchen items are up for bid that can help you make some yummy snacks. Thanks so much for reading this new article. So what are some of your favorite summertime snacks? Let us know below in the comments. Have a great day, and happy bidding everyone!
This sponsored DealDash blog article was written by Dawn E, a mother of 3 who loves DealDash. Dawn was compensated for writing this article. Check out Dawn and her cats on Instagram! This blog is written by real DealDash customers. The opinions and advice shared here represent our customers' views and not those of the company.