DealDash Spring Break 2021 Ideas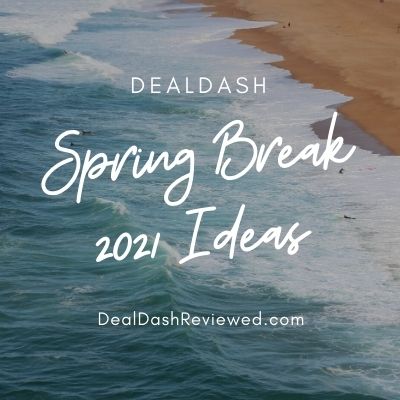 Spring Break will be here in a couple of weeks. Even though this year might not be as fun as previous years, you and your kids can still have a great time. DealDash can help.
Spring break will be here soon! In Massachusetts, it begins April 15th, but check your local school's website for your exact dates. This year, spring break probably still won't be as full of travel and excitement as previous years, since many states are still under travel restrictions. However, that doesn't mean you still can't show your kids a good time! Read on for some suggestions from DealDash.
Spring Break Socially Distanced Beach/Lake
The first thing that comes to many people's minds when they hear "spring break" is the beach! Travel and crowds are still heavily discouraged, and it's important to follow the CDC's guidelines on social distancing. However, spending time out in the fresh air and sunshine is good for your mood and wellbeing. There are always stretches of beach that aren't very popular, and times (such as daybreak and dusk) that aren't particularly busy. Taking a walk on the beach wearing masks at dawn with your kids is better than no beach at all! If you live in a place that doesn't get many tourists, do a little research and find the best time to go when there are the fewest people.
Spring Break Craft Extravaganza
Next, if you aren't near the beach, or just don't feel comfortable going, no problem! Kids always enjoy crafts, and spring break is the perfect time to try out a few new ones they have been wanting to try. You can get the items separately, or you can try out pre-made kits. If you and your kids are really into crafts, you could even try to do a different kit each day! DIYs.com has an article reviewing some of the newest craft kits that have come out this year. You can try some of those if you are stumped as to which ones to try. Spending money on crafts might not be a top priority for you right now, and that's understandable. There are still plenty of fun and crafty things you can do with things around the house. All you need to do is add imagination!
Make Daily Fun Boxes – DealDash Can Help
Next, making a daily "fun box" is a great way to help your kids enjoy spring break. If you make these boxes in advance, then you will already have each day planned out so you won't hear the dreaded "I'm borrrrred, what are we gonna do todayyyy?" Your answer will be simple – "Grab Tuesday's box, and we'll find out!" Here are a few suggestions.
Baking Box. What kid doesn't love cookies and cake? In the baking box you can include things like sprinkes, a box of cake mix, cookie cutters, and other things you might associate with baking. Maybe even a kid's size apron!
Outdoor Play Box. In this box you can include things that you think about when you think of playing outside in the driveway or in the yard. Try bubbles, chalk, a jump rope, and some balloons to make water balloons. If you would like to add some bigger activities to the box, try printing out a picture of the item, such as a hula hoop or scooter.
Lawn Games Box. If your kids are a little older but still need mom or dad to help fill their day, lawn games are perfect! In this box you can write down the names of the different lawn games you own, and let everyone take turns picking a game. Badminton, horseshoes, ladder toss, bean bag toss, and giant tic-tac-toe are some games you might want to add to this box.
DealDash can help with activities to entertain your kids this spring break. You will find many options in the Hobbies, Toys, Outdoors, and Games category such as sports equipment, bikes, and toys. If your kids are more the indoor type, or if your area is having rain, DealDash has that covered as well. Your kids will love a new Lego set, Easy Bake Oven, or video game.
Thanks for Reading
Spring break is almost here, and it's important to relax and help your family have some fun. These suggestions will help you keep your kids occupied during spring break. Thanks so much for reading this article on spring break fun.
Use the ideas from this article to entertain your kids on their school vacation. The Hobbies, Toys, Outdoors, and Games category has plenty of items to use for family fun. Have a great time on DealDash and happy bidding everyone!

This sponsored DealDash blog article was written by Dawn E, a mother of 3 who loves DealDash. Dawn was compensated for writing this article. Check out Dawn and her cats on Instagram! This blog is written by real DealDash customers. The opinions and advice shared here represent our customers' views and not those of the company.