DealDash Explores Myrtle Beach, SC

Have you ever taken a trip to Myrtle Beach, SC? It's not just for golfers anymore. Let's explore with DealDash.
Growing up in Wilmington, NC was great, because so many nice vacation spots were just a short car ride away. One of these spots is Myrtle Beach, South Carolina. Just 1.5 short hours from where I grew up lies miles of beautiful beaches, a boardwalk with an amazing ferris wheel that has enclosed seats with AC(!), a Ripley's Believe it or Not museum, multiple haunted houses, and so much more. Here are a few fun things to do in Myrtle Beach, from DealDash.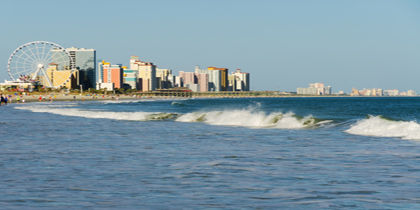 Beaches
Going to the beach is always a favorite activity when on a trip, and Myrtle Beach has many beautiful ones to explore. If you don't mind paying a few dollars, skip the public beach access points and hit up the Myrtle Beach State Park on the southside of town. It costs $5 per adult and $3 per child (under 5 kids are free) to get in, but then you have wide stretches of beach to yourself with less competition for a spot to put your beach towel. For the entry fee you also get access to hiking trails, a fishing pier, picnic shelters, and a nature center.
Alligator Adventure
When I was growing up in the south I had a few of my own up close and personal adventures with wild crocodiles, but Alligator Adventure is safe and supervised. There are more animals there than just alligators such as monkeys, birds, snakes, and more. The entrance fee is a little steep at $17.99, but well worth it in my opinion.
The Carolina Opry
After you've done the beach and kid's activities all day, maybe it's time for something a little more grown up. See a variety of concerts from Broadway to gospel, rock, country, and more at the Carolina Opry. There are also special events such as comedy shows, dancing performances, and lots of other entertainment. The tickets start at $50, though, so choose your show wisely.
Thanks for Reading
Thanks so much for reading this DealDash article on Myrtle Beach, SC. If you're excited about visiting Myrtle Beach, maybe you should visit DealDash first to get some new luggage! DealDash can help you with luggage, laptop cases, toiletry bags, and more.
Now that you have traveling on your mind be sure to go check DealDash for luggage and airline gift cards. DealDash has all of the items that you need. VisitDealDash now to see how much you can save. Good luck and happy bidding everyone!
This blog was written by Dawn E, a mother of 3 who loves DealDash. Read even more at DealDashBlog.com, DealDashTips.com, or on her own blog, DawnBlogtopus.